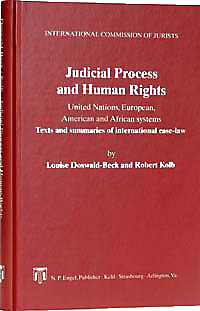 Diese E-Mail-Adresse ist vor Spambots geschützt! Zur Anzeige muss JavaScript eingeschaltet sein!
INTERNATIONAL COMMISSION OF JURISTS
Judicial Process and Human Rights
United Nations, European, American and African systems
Texts and summaries of international case-law
by Louise Doswald-Beck and Robert Kolb
466 pages • hardcover • ISBN 3-88357-131-8 • 2004 • € 96; £79; US$ 122; SFr. 186
Students providing proof of their status benefit from a 50 percent reduction.


This book is a practical guide to the interpretation of the right to liberty and security of person, the right to fair trial, the prohibition of torture, inhuman or degrading treatment or punishment, including the treatment to be accorded in detention, and derogation in states of emergency. Unlike many other texts, it covers the interpretation by all four major systems, based on:
• the UN Covenant on Civil and Political Rights, and the UN Convention against Torture;
• the European Convention on Human Rights and the European Convention for the Prevention of Torture;
• the American Declaration of the Rights and Duties of Man, the American Convention on Human Rights, and the Inter-American Convention to Prevent and Punish Torture;
• the African Charter on Human and Peoples' Rights.
The book is divided into four Parts: judicial guarantees of detained persons; fair trial; treatment in detention;
states of emergency.
The first two parts are sub-divided into the various facets of the rights typically found in all four systems.
Each Part includes the most important relevant international texts, or parts of texts, followed by caselaw from each system, i.e.
United Nations
– Human Rights Committee, Geneva / New York
– Committee against Torture, Geneva
Council of Europe
– European Court of Human Rights, Strasbourg
– Committee against Torture, Strasbourg
Organisation of African Unity
– African Commission on Human and Peoples' Rights, Banjul
Organization of American States
– Inter-American Commission on Human Rights, Washington
– lnter-American Court of Human Rights, San José
The case-law consists of a very short description of the material facts relevant to the legal point and then a short description of the relevant part of the decision, including verbatim extracts where useful. Cases were chosen that most usefully interpret the meaning of the right concerned.
This book is published in English and in French (the French version is entitled « Garanties judiciaires et droits de l'homme »). It will be a useful teaching and reference work for both academics and legal practitioners.
Easy access
• Complete table of cases (numerical and/or alphabetical)
• Subject index (references not limited to where a particular word appears, but also where the concept appears, albeit expressed in different terms).